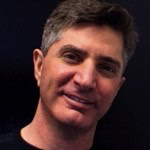 The Short Version
I am Ian Gordon, and I have been involved in digital publishing and developing and executing online marketing strategies since 1998, when converting a document to PDF was a really big deal and websites were nothing more than electronic yellow pages ads.
I have marketing experience on both the client and agency side, and I have owned a small business in one form or another, for most of my adult life.
Today, my company Real Digital, helps small to medium sized business achieve their online goals and make more money.
Prior to moving to Toronto, I was Founder and President of Premium Source Publishing, in Phoenix, Arizona.  Premium Source  publishes custom textbooks for university and college professors, and helps post secondary educational institutions develop and implement Intellectual Property and Copyright Compliance policies.
In addition to this blog, I've hosted and produced a popular internet radio show about starting a business while raising young children.  The Startup Daddy podcast , has been featured in iTunes and was a Top 25 Business Marketing & Management podcast.
The Long Version
You can find out more about my professional background on Linkedin.
What People Are Saying
"Ian went above and beyond in providing me with expert advice that helped launch my business. To put it succinctly, the guy eats, breathes and sleeps the ins and outs of small business. He's an unbelievable asset to any company looking for strategic help."
– Michael Handelman, Creative Director/Owner, Playtime Interactive, LLC

"I have used Ian Gordon in the past and will continue to use [him].  His services have enabled me to grow my business, increase my brand, and develop cutting edge strategies to stay ahead of today's ever changing economy. He adeptly uses his vast entrepreneurial experiences and his expert internet skills in devising a custom plan. He has excellent people skills and is fun to work with. I have learned so much from him."
– Bill Malizia, Jr., Founder/Director at Pro Edge Lacrosse, LLC