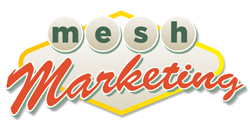 Proving that the sole purpose of this blog is SEO and link bait, I give you my Mesh Marketing wrap-up post a full 5 days after the event, and post it on a Sunday afternoon.
I really use this blog as a place to hash out new ideas and experiment with tools and plugins, so I can recommend them (or not) to my clients and implement them (or not) on my clients' blogs and websites.  So I am writing this as a way to review all of the many things I learned at Mesh Marketing, and share them with you.  Here goes.
I approach digital marketing and social media (or social business, or whatever it's being called now) a little differently than a lot of my colleagues. I look at these tools in relation to how they can be used to make my clients more money. I don't know why that is frowned upon as much as it is, but that's a topic for another post. So in my Mesh Marketing wrap-up here, I'm going to stay with that theme and talk about the things I learned, that if you implement them, will make you and/or your clients, more money.
Social Media For Business
The day started out with a conversation with Greg Hounslow, who is in charge of social media for West Jet Airlines. Greg was a part of a small team of people (including the CEO) that got West Jet involved in social media in the first place. In the beginning, he was the single person responsible for managing their online accounts. The @WestJet Twitter account currently has over 100,000 followers, and their FaceBook Page is just shy of that number.  He has a team now, and I don't know how big the accounts were when he was on his own, but that's pretty impressive.   Westjet makes a lot of personal connections via Twitter DM, and on their Facebook page.  Never forget that making that personal connection with you customers (fans and detractors alike) is what this is about.  Because they do that, the promotions they push through their social channels are successful.  Westjet realized they can very effectively measure these promotions which allows them to concentrate more on the things that work.
Money Making Take-aways:
First, if one guy can manage the social profiles for a huge corporation, you can do it for your business. "I don't have time" is not a valid excuse.  Make a plan, schedule the time, execute plan. Period.  Second, measure stuff!  Measure what posts are getting the conversation going.  Measure who is spreading your message the farthest.  Measure what promotions are actually converting.  It turns out that being a good writer is only a part of the equation for success in social media.  Math is important too.  Choosing the right metrics, and measuring and analyzing them will make you more money.  I promise.
Content Marketing
The Content Marketing conversation between Marcus Wilson from Idea Paint and Marcus Sheridan (@TheSalesLion) from River Pools and Spas was full of great ideas.  Content Marketing is not only the keystone to any search engine optimization/website traffic strategy, but it sells.  Great content will convert traffic to sales both on and offline.  So you think your business doesn't have anything interesting to write about, or you don't know where to start?
Money Making Take-aways:
Idea Paint is a paint that turns any surface into a white board.  While this is very cool, it's still paint.  Not the most exciting thing, right?  Idea Paint uses video to showcase their product and takes "user generated content" to another level.  People really get into it.  Customers make and post videos about how they are using the product and Idea Paint promotes these videos on their site.  They let their customers do the selling for them.  Never under estimate the power of testimonials and third party content.  Get them on your website and it will make you more money.
Marcus Sheridan is @TheSalesLion on twitter, and his blog is here.  His funny, no BS speaking style made him a crowd favorite at Mesh Marketing this year.  This one's easy. You want to start making more money online? Read his blog.  More specific takeaways are  to get started blogging for your business, write down all the questions your customers ask.  Get this from your sales people, your managers, the person who answers your phone, everyone.  After you do this, you should have a ton of topics to write about.  Your corporate website and blog should answer all of your customers' questions.  If done right, it can be the greatest pre-qualifying sales tool you have.  Also, Marcus owns the pool building category online.  The potential for Blue Collar service businesses to dominate their online niche is huge.  Is this you? Start. Now.
Klout
This biggest name at the conference was probably Joe Fernandez, founder and CEO of Klout.  Klout is a startup that attempts to measure the influence each of us has online, so they can help brands target influencers to make them more money. (Seeing a theme here?)   I've written about Klout and the concept of measuring influence  before, and despite the the recent problems they've had with privacy issues, I still admire the startup.
Klout recently changed their algorithm.  To put it in very simple terms, people were doing things to raise their scores (gaming Klout) and Klout responded.  This resulted in a lot of honest people's score dropping, which really upset a lot of these people.  Further, they got into trouble when the NY Times wrote an article that exposed a privacy flaw.  Overall, I found Joe very humble as he acknowledged they are not perfect.  What they are doing is hard- they analyze 20 Terabytes of data per day!  They've made mistakes, tried to respond, and will definitely make more mistakes in the future.
Money Making Take-aways:
Don't depend too much on third-party tools or endorsements for your income.  They can change at any time.
When your company runs into trouble, stick to your core values and don't try to please everyone.  Trying to make everyone happy is a sure recipe for failure.
Search & Search Engine Optimization
I attended a very informative conversation about Online Search between Kunal Das, the search evangelist at Bing (who has captured 30% of the search market, by the way), and Krista LaRiviere from gShift.  Kunal and Krista were incredibly knowledgable about the current factors impacting search rank.  As Google and Bing incorporate social signals into their algorithms, the art of ranking in their organic search results is shifting from Search Engine Optimization to Web Presence Optimization.  Your "outposts" are more important than ever.
Money Making Take-aways:
Everything about search rank is about making money.  Honestly, if you don't care about making or raising money, I can't imagine why you would be concerned with your search engine rank.  So the key take aways from this session for me, were:
SoLoMo  Social, Local, Mobile, are the key drivers in search rank.
Social–  having content that easily sharable, and people actually sharing it, is the biggest factor right now.
Local– Both Google and Bing are factoring in location data more than ever before.  Having a search optimized  Google Places AND Bing Business Portal page for your business is more important than ever.  You may have a Google Places page, but chances are you've ignored Bing.  30%?! Make sure you have both. Go. Now.
Mobile-  Mobile search experienced 100% growth this year.  The interesting thing is that PC search has remained flat.  This means mobile search is ADDITIVE.  Keep in mind that more than half of search on a mobile has local intent.  Ignore mobile at your own peril.
Two Thumbs Up
I was lucky to have won a free ticket to the conference on Twitter, but I will be keeping Mesh on my list of conferences to attend.  The networking for those in the digital marketing and communications fields is second to none.  The speakers were first rate, and the conference was a lot of fun.  A good indicator of  whether to attend a conference is if you have hard decisions choosing the sessions you will attend.  The decisions at Mesh Marketing were very hard.  I missed a few sessions I really wanted to see and really look forward the the video posts when they are up.  So did you attend Mesh Marketing?  What did you get out of it?