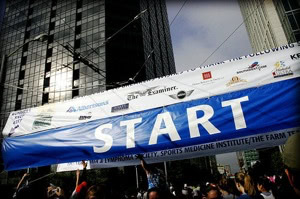 First posts on new blogs are a big deal.  You want them to be an opus that gets links and gets tweeted and re-tweeted by all of the smart people you admire.  The thing is, for most of us that's a bit much to live up to out of the gate.  Thinking that way can hold you back.  It sure holds me back.  I've been thinking about launching this blog for a while now.  What will I write about? What should the URL be?  What will it look like?  So instead of answering those questions, I'm just going to dive in and start writing.  I put up the blog, picked a theme, and hit the activate button.  I'll play with the look of this site, and work on all those website technical details as I go.  The doing is the thing. Taking action is what really matters. Like Steve Jobs famously said , real artists ship.
So what will I write about? It's always smart to write about what you know or what you want to know.  I've been an entrepreneur most of my adult life, and I now work at a marketing agency expanding their digital and interactive marketing efforts.  With thousands (or even millions) of marketing blogs already out there, would I really add to the noise and write another marketing blog? Yes, I would.  I like to explore marketing.
I'm interested in how digital media, social media and internet marketing strategies are being used to help move businesses forward and generate leads and sales.  I look at these things with the practical but optimistic eye of an entrepreneur, and writing about them helps me work out my ideas.  As I explore marketing through digital and social channels, I'll use this blog to write about the things that I find "move the needle."  I love that phrase.  I don't remember where I heard it first, but it sums up what I consider the most important criteria for any marketing effort, perfectly.
I'm no social media rock star, so since you're reading this, you likely already know me or at least a bit about me.  Isn't that a silly term, Social Media Rockstar?  When I was 14, I played a cherry-red Gibson SG, and dreamed of being a rock star.  None of those dreams included being asked to speak at conferences or having my thoughts embraced and passed on by others , but I digress. So since you know me, you know that I'll try to keep things in the real world.  I'll explore the strategies and tools real businesses without huge marketing teams or budgets are using to help achieve their goals.
So thank you for stopping by my new online home.
Talk soon.